Put simply choosing the right dressmaking fabric can make or break your sewing project. A number of customers have told us they struggle with this aspect of dressmaking so we've written this guide to help you along the way. Fabric shopping should be nothing but a purely joyful experience after all! Plus we want you to reap the rewards of the time and money you invest in every project.
The Basic Logic behind Fabric Choice
Trying to get your head around fabric types can feel totally overwhelming. Even experienced dressmakers can feel this way and stick to what they know to avoid disappointment. Understanding which fabrics work well for different garments can also help you to become a more adventurous sewer.
Before you start to think about a specific project it is a good idea to get a basic grasp of what makes different fabric types suited to different garments. You can start to do this by looking at the clothes in your wardrobe. Think about why each type of fabric is suitable for each particular garment. Don't worry if you're not sure exactly what type of fabric it is, we will cover these in more detail later.
Think about the characteristics of the garment rather than the type of garment. When choosing fabric the style, fit, design, silhouette and structure you want to achieve are important considerations. We would argue how the fabric hangs or drapes is the crucial starting point.
It is impossible to allocate a fabric type to a garment type. For example, you could say all jackets should be made from a stiff fabric to achieve the necessary structure. Whilst this might be true for a formal suit jacket, it would not be the case for a casual cardigan style jacket or a loose fitting rain jacket such as the second and third images below.
First ascertain the drape - is it a structured silhouette or a fluid one that flows over the body? Then start to ask yourself further questions - is the garment close fitting and therefore needs to stretch as you move? Does it need to be an opaque fabric - most people wouldn't fancy wearing a sheer skirt or trousers! Does the fabric need to be strong enough to take stress on the seams? To avoid a split pair of trousers for example!
Choosing the right fabric for a project is a process of elimination - identifying and ruling out fabrics that won't work until you have a list of possible options that will. The above questions will help you to do just that.
Now turn your thinking on its head. Think about why the clothes you've considered wouldn't work as well in different fabrics. Imagine a nice crisp cotton shirt made in a drapey, fluid fabric such as satin or chiffon. Imagine a flowing maxi dress in a stiffer, coarser fabric. Then save yourself the horror of the pictures in your mind's eye and stop imagining!
Once you have considered your existing clothes and have a feel for the key questions to ask yourself you can start to think about what you would like to make.
Consulting the Pattern Packet
Suggested Fabric Types
If you are starting with a particular pattern in mind look at the packet. It is full of interesting and useful information. If there is a photograph on the packet it can give you a clue as to the type of fabric that would be suitable.
Look at the back of the pattern packet. There is usually a table with a list of a wide range of suitable fabrics. If you aren't confident about fabric choice it is best to stick to these, but as your confidence grows you may choose to select alternative fabrics to work with.
Knit Only Patterns
Some patterns will only be suitable for knit fabrics also referred to as stretch and jersey fabrics. These patterns are designed with negative ease i.e the finished garment will be slightly smaller than your measurements. This is because the garment is meant to stretch and hug your body.
Using a fabric without enough stretch will result in a garment that is too tight or doesn't fit at all. Patterns designed for knits often have markings on the back of the packet so you can do a stretch test. For example here you take a section of fabric as long as the black bar and check it can be stretched to the arrow at the end of the white bar. If it stretches this far and returns back to it's original position afterwards (known as recovery) it should be fine.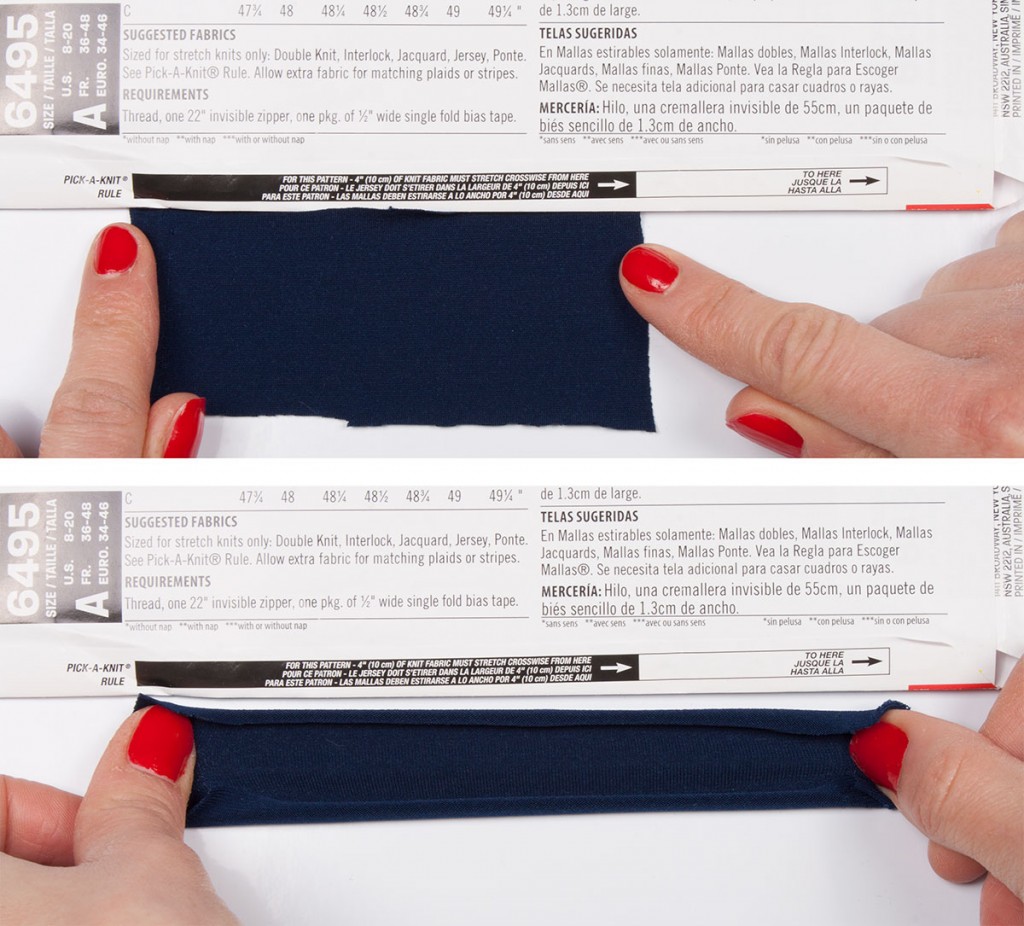 Equally using a stretch fabric for a non stretch pattern can result in a baggy, shapeless garment unless you make adjustments to the pattern. There are suggested formulae and methods recommended for making these alterations so it is best to do your research before attempting it.
It is also worth recognising that stretch fabrics can be two way stretch or four way stretch and certain patterns will only be suitable for one of these types. Two way stretch fabrics stretch width ways across your body (NB: the stretch of the fabric should always be across the body for two way stretch fabrics). Four way stretch fabrics also stretch lengthways and diagonally.
Fabric Quantities
The pattern packet also tells you whether plaids, stripes or one directional prints are suitable and if extra fabric is necessary to pattern match these fabrics. There is no general rule of thumb for how much extra fabric you will need. It depends on the size of the print and the pattern.

The pattern packet will also tell you how much fabric you will need based on the width of the fabric. Dressmaking fabrics are usually 45" (115cm) or 60" (150cm) wide so you will need to buy slightly less if the fabric you have chosen is wider.
Even if you are starting with a fabric in mind rather than a pattern use the logic we have applied. Refer back to the questions above to identify a suitable garment to make with it.
Common Fabrics used for Garments
The first thing I should mention is our website. We've broken the fabrics down into fabric types so it is nice and easy to find what you are looking for. In the largest fabric section (patterned woven fabrics) we've added filters to assist you further. You can select fabric type and/or print design to help you to narrow things down. I have used our website fabric groupings to prepare this list to make it even easier to navigate your way around.
This method of grouping also works well for the process of elimination method we talked about earlier. It is by no means an exhaustive list, but covers most of the common dressmaking fabric types.
FABRIC GROUP

FABRIC TYPES

DRAPE

CHARACTERISTICS & COMMON USES

SEWABILITY

COTTON

Cotton poplin

Limited drape

Natural fibre, light to medium weight, skirts, shirts, dresses

Easy

Cotton lawn

Very good drape

Lightweight, skirts, blouses, dresses, shirts

Easy

Polycotton

Limited drape

Polyester and cotton blend, medium weight

Easy

Cotton sateen

Drape varies dependant on weight.

Satin finish, sometimes has a small amount of stretch, skirts, trousers, dresses

Easy

CHIFFON

Silk chiffon, nylon chiffon and polyester chiffon

Excellent drape.

Lightweight, sheer, lingerie, sleepwear, overlay on evening dresses or blouses, scarves
Advanced

LINEN

Linen

Good drape.

Natural fibre, cool and absorbent. Trousers, skirts, blouses, jackets

Easy

POLYESTER

Poly-viscose, 100% polyester

Good/very good drape

Skirts, dresses, trousers

Intermediate - can be slippery

Crepe de chine

Excellent drape

Silk like appearance (silk based also available), very lightweight, blouses, lingerie, scarves

Intermediate - can be slippery

Crepe

Excellent drape

Various weights available, satin backed options available. Tops, skirts, dresses

Intermediate - satin backed option can be slippery

VISCOSE

Poly-viscose, ramie-viscose

Excellent drape

Natural fibres, often blended with other fibres, dresses, tops, skirts

Intermediate - can be slippery

KNITS

Cotton jersey & wool jersey

Excellent drape

Matt finish stretch fabric, tops, skirts, dresses

Intermediate - correct tools & handling necessary

Polyester jersey & viscose jersey

Excellent drape

Sheen finish stretch fabric, tops, skirts, dresses

Intermediate - correct tools & handling necessary

Scuba

Firm knit, no drape

Suitable for skirts, dresses, jackets

Intermediate - correct tools & handling necessary

DENIM

Stretch denim available in a range of weights

Firm weave, limited or no drape

Stretch fabric, lighter weights suitable for dresses, shirts, skirts, heavier weights for trousers, jackets, coats

Intermediate

Non stretch available in a range of weights

Firm weave, limited or no drape

Lighter weights suitable for dresses, shirts, skirts, heavier weights for trousers, jackets, coats

Easy

LACE

Available in stretch and non stretch

Excellent drape

Decorative fabric used for dresses, tops, skirts and lingerie

Advanced

SATIN

Polyester or silk based

Drape varies depending on weight

Luxurious fabric used for evening wear, blouses, dresses

Advanced - very slippery!

TAFFETA

Silk, rayon or polyester available

Firm weave, limited drape

Luxurious fabric used for evening wear

Intermediate

VELVET

Silk, rayon, cotton, viscose, polyester blends available

Excellent drape

Short dense pile - smooth brushed in one direction, coarse in the other. Luxurious fabric, dresses, tops, jackets, trousers, skirts

Advanced

WOOL

Boiled wool, worsted wool, wool crepe, wool jersey

Drape varies depending on weight

Trousers, dresses, skirts, coats, jackets depending on weight

Specialist preparation & pressing required
Other Considerations
Identifying fabric suitable to the type of garment you want to make is essential when choosing a fabric. Once you have narrowed your selection down there are also other things you may want to consider.
Some people prefer to use natural fibres such as viscose, cotton and linen rather than man-made fibres such as polyester. Natural fibres are more breathable and therefore cooler.
All of our fabrics have care instructions listed. If you are making a garment for every day wear it is a good idea to choose a machine washable fabric. If you are making a special occasion outfit dry clean only fabrics are still practical.
Certain fabrics are more difficult to work with, they may require special preparation and pressing techniques (such as velvet and wool) or be difficult to handle when sewing (such as chiffon, silk and satin). If you are a beginner sewist it is probably best to start with easy to sew fabrics such as cotton and progress onto more challenging fabrics as your confidence grows.
Once you progress onto more challenging fabrics having the right tools for the job is so important. Simply using a specialist sewing machine foot or the right interfacing can take the task from a total nightmare to an absolute breeze.
If you are buying a fabric without a specific pattern in mind it is a good idea to buy 2-3m to keep your options open.
Finally think about whether the fabric you've chosen will fit with your style and wardrobe. If you are making separates what will you wear them with? If you are making a dress, have you got the right accessories or is it a good excuse for some new shoes?!
Have fun sewing!
Lucy
For more tips and tricks on how to make sewing easy you can follow our blog via Bloglovin and receive updates via email each time a new post is added.
Follow us on Facebook Twitter YouTube and Instagram for news, tutorials, special offers, sales and more.