Love it or hate it, finishing seams is a crucial step in producing a well made garment. Using an overlocker or overcasting stitch on your machine are the most common techniques, but there are plenty of other fun alternatives to try. In this article we share a few of the most common seam finishing techniques that might just crank up the excitement levels when it comes to this step in your dressmaking!
A Hong Kong Finish/Bias Bound Seams
Bias bound or Hong Kong seams are the prettiest seam finish in my opinion. They are especially useful for unlined or partially lined garments such as coats and jackets or dresses. They are also a lovely way to add an interesting bit of detail to the inside of your garments by using a contrasting colour or patterned bias binding. Although they look super professional they are also easy to sew.
To create a Hong Kong seam finish you can use ready made bias binding or create your own bias binding as detailed in one of our previous blog posts here. If you are using ready made binding press it open before you begin.
First sew a seam in the normal way. Cut the bias binding to the same length as the seam.
Next place the bias binding along your open seam right sides together.
Pin the binding and seam allowance in place taking care not to catch the main fabric of the garment.
Stitch 1/4" from the raw edge again taking care not to catch the main garment fabric.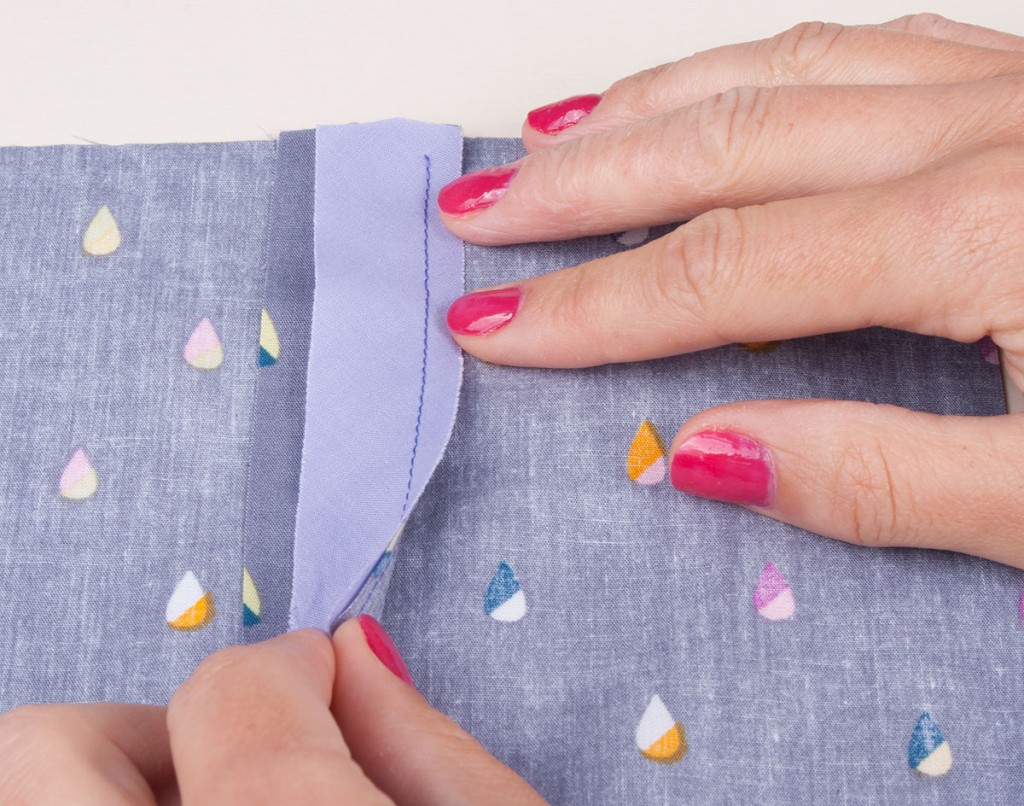 Turn the bias binding over away from the stitching line and press.
Fold the bias binding under the seam allowance and pin or press it in place.
Sew a 'stitch in the ditch' along the bias binding seam and trim the excess bias binding from the wrong side. I used a stitch in the ditch foot to help me accurately sew along the line where the bias binding meets the fabric (AKA the ditch!) It is best to choose a similar colour thread to the fabric rather than the bias binding.
Complete the process on the other side of the seam allowance.
French Seams
French seams are traditionally used in shirt making and are also an excellent option for sheer and delicate fabrics such as chiffon and satin. They are a strong, but subtle seam finish and neatly encase the raw edges of the seam. They are not suitable for heavier weight fabrics since they will create too much bulk.
To create a French seam, break normal convention and sew the wrong sides of your fabric together with a 1/4" seam allowance.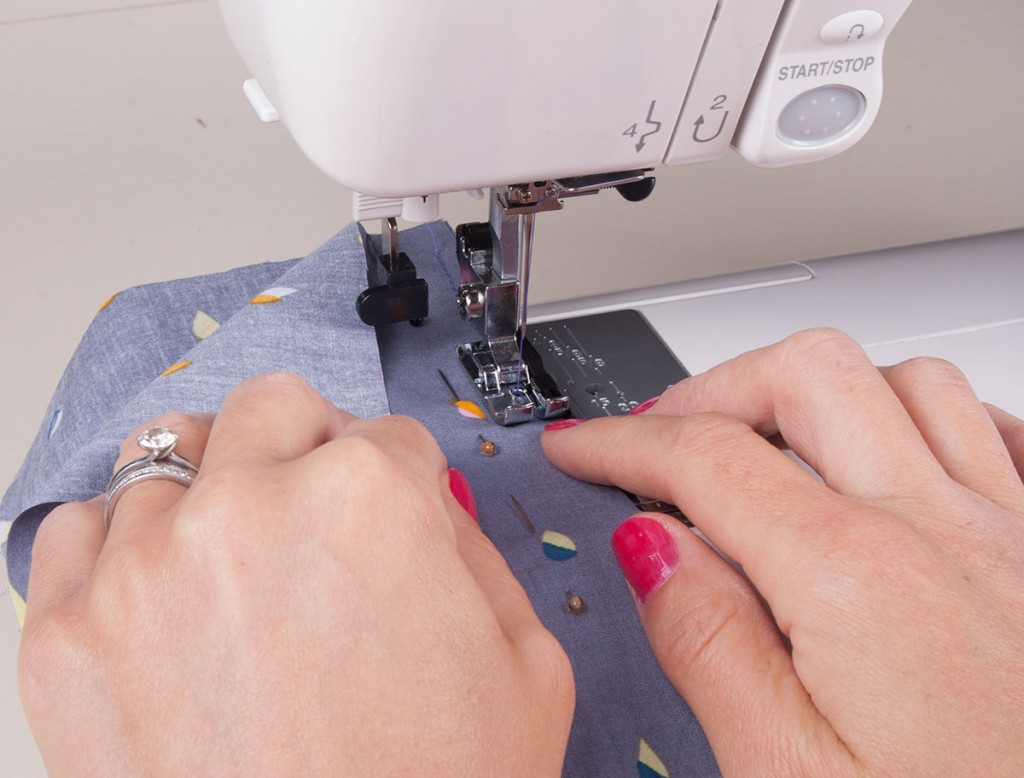 Press the seam flat to set the stitches then press it open.
Fold the fabric right sides together and press along the fold.
Sew a seam 3/8" from the fold. This creates a 5/8" seam allowance (3/8" plus the 1/4" seam allowance you have already sewn).
The raw edges are now neatly enclosed inside the French seam. Magic! Press the seam to one side et voila!
I sewed French seams to sew the tulle on a cocktail dress I made last year. It was the perfect way to finish the seams in this sheer and delicate fabric. You can read about it here.
Run and Fell or Flat Felled Seams
Run and fell or flat felled seams are most commonly seen on jeans and men's shirts. Like French seams they look super professional, but are actually very easy to sew.
Again you break convention with this method and start with your fabric wrong sides together.
Sew a 5/8" seam or whatever seam allowance is specified by your pattern.
Trim one seam allowance to 1/4".
Open the seam out with the right sides of the fabric facing you and the seam allowance running down the middle.
Next fold the raw edge of the wider seam allowance over slightly.
Then fold the same seam allowance over the narrower one.
Pin it in place or use basting tape to hold it in position whilst sewing. If you are a confident sewer you can skip this step by pressing the folds as you go. This also depends on the fabric and how well behaved it is!
Edgestitch the flat felled seam in place. In other words sew about 1/8" from the edge of the flat felled seam to secure it to the garment.
A 'Normal/Straight' Seam
The most common and easiest way to finish seams that are pressed open is to use an overcasting stitch, found on most sewing machines. Alternatively you can use an overlocker, which sews overlocking stitches at a rate of knots and even trims off any excess fabric for you where appropriate. A three or four thread stitch can be used to finish the seams depending on your preference.
Another option is to use pinking shears, however, this can only be used on stable, tightly woven fabrics. This can be especially useful with crisp, smooth fabrics like taffeta if you don't want to add any bulk with stitching or binding.
The seam in the image below is finished using an overlocking stitch on a sewing machine.
The edge of the fabric in the image below is finished using an overlocker and can be used to finish seam allowances.
Princess Seams
A princess seam is a seam used in women's clothing to ensure garments fit round curves.
Sew the princess seams, press them open and finish the raw edges.
Next 'clip' the curves by cutting small notches in the fabric from the raw edge towards the seam line. Take care not to snip through the stitching line.This reduces the bulk and will allow your garment to sit smoothly against your curves.
The edges haven't been finished in the image below, but the clipping has been demonstrated.
I am a firm believer that the inside of a handmade garment is just as important as the outside. I always strive to make the inside as neat as possible, but I'm not going to lose any sleep over it if anything does go slightly awry! Despite this, when I first started sewing I would have been petrified to try some of these seam finishes. I hope this article has helped beginners to see they aren't as scary as you might think. For you super sewers out there I hope it has been a useful refresher.
Have fun sewing!
Lucy & Angela
For more tips and tricks on how to make sewing easy you can follow our blog via Bloglovin and receive updates via email each time a new post is added.
Follow us on Facebook Twitter and Instagram for news, tutorials, special offers, sales and more.