Using the right interfacing, tapes and waistband stiffeners will give your dressmaking projects a truly professional finish. However, the vast range of products available today can be overwhelming. It is easy to find yourself sticking to the products you know when there could be a more suitable one for the task at hand. Our range of these products is by no means exhaustive, but caters for the most common dressmaking and tailoring requirements well. We've created a handy comparison table of our interfacing range for quick reference and explore how our interfacing, waistband stiffeners and tapes can help you to get great results every time.
Interfacing
What is Interfacing for?
Interfacing is used to give fabric more structure, body or stability. It is applied to the wrong side of the fabric and isn't visible in the finished garment.
In dressmaking it is commonly used on facings, waistbands, collars, cuffs and plackets. Look at your ready to wear garments to identify where interfacing has been used. Think about how the garments would look without it - the answer is probably a bag of rags!
The facing on the back of this ready to wear blouse gives the structure needed to support the opening. If the facing wasn't interfaced it would drape like the main garment fabric and would loosely hang rather than support the opening.
In tailored garments, such as tailored jackets and coats, even more structure is required. Heavier interfacing is used to provide structure at the shoulders, lapels, cuffs, collars and other areas.
Don't just follow the pattern, think about the results you want to achieve and where you think the garment might need body or support.
Choosing the Right Interfacing for your Project
There are probably hundreds of types of interfacing available on the market. Our selection is by no means exhaustive, but has the most common dressmaking and tailoring requirements covered well.
We've organised the products on our site into interfacing suitable for standard dressmaking tasks and those suitable for tailoring tasks referred to as 'speed tailoring'.
The Fabric
The first consideration when choosing an interfacing is the fabric. Interfacing should always be a slightly lighter weight than the fabric you are using, have a similar drape and you should choose the colour that will be least visible with your fabric. If you refer to the reference table below you will see that our dressmaking interfacings are suited to lightweight or lightweight to medium weight fabrics whereas most of the tailoring products are suitable for heavier outerwear fabrics.
Stretch interfacing is available and, yes you guessed it, is suitable for knit and jersey fabrics. It will still allow the fabric to stretch as it should, but will increase stability and is particularly useful for armholes, necklines and hems to prevent them stretching out of shape.
The Task at Hand
Secondly consider the task at hand. This may mean you use several different types of interfacing in one garment (see the reference table below). Therefore it is a good idea to have a collection of different types of interfacing to choose from and test them out on scraps of fabric until you get the result you want.
Fusible or Sew In Interfacing
Once you have considered the fabric and the task you will need to decide whether to use a fusible or sew in interfacing. This is really a matter of personal preference more than anything so it is a good idea to try both and identify which type you would rather use.
Fusible Interfacing
A few minor points to bear in mind. Fusible or 'iron on' interfacings are quicker and easier to apply than sew in interfacing. They can be a little messy if you get the glue on your iron or ironing board, but a good tip to avoid this is to use an oven liner to protect your ironing board.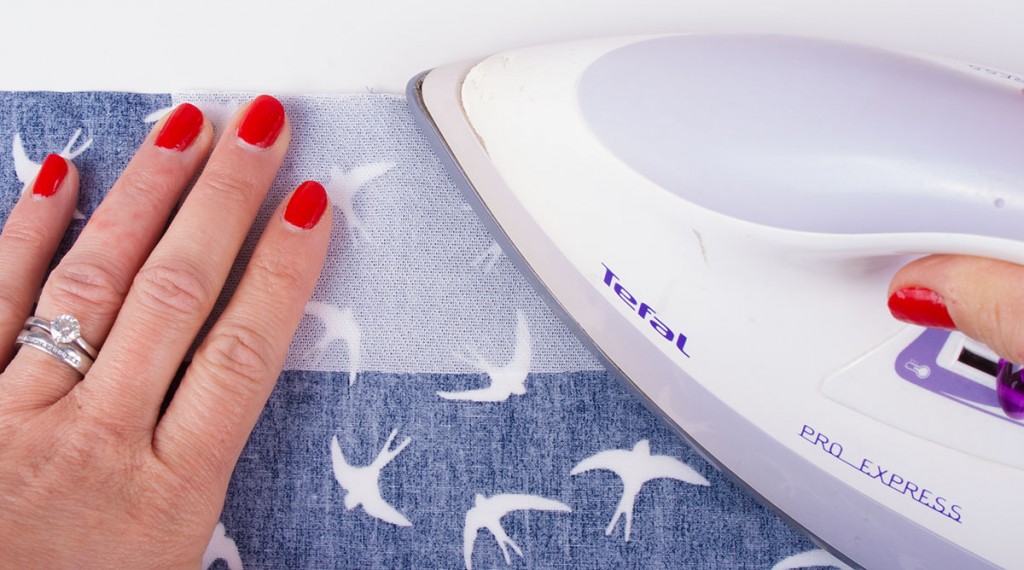 If you want to reduce bulk in the seam allowance, but want to use a fusible interfacing, trim the interfacing down close to where the seam line will run before application.
Sew In Interfacing
If you are working with a fabric you want to avoid pressing a sew in interfacing is a good option. Sew in interfacing is also useful if you want minimal bulk in the seam allowance because you can easily trim away any excess.
If using sew in interfacing remember you will be working with three layers (two fabric and one interfacing). Take care to make sure the layers don't move out of line whilst sewing. A good tip is to baste the interfacing to the facing etc first before stitching the three layers together (see image below).
Woven or Non Woven Interfacing
Another consideration is whether you will use woven or non woven interfacing. We have a mixture of woven and non woven interfacing available and again which type you choose is largely down to personal preference.
Woven Interfacing
Woven interfacing has grainline and tends to be softer or have more drape than non woven. It is important to consider the grainline in the same way you would your fabric when cutting.
Non Woven Interfacing
Non woven doesn't have a grainline and comes in a wide range of weights from very lightweight to almost paper like. It is more readily available and is generally cheaper than woven interfacing.
Tapes
Bias Tape
The primary purpose of bias tape is to prevent stretching out where stay stitching wouldn't be strong enough to perform this role, for example, in the heavier weight fabrics used for outerwear. The tape is fusible and has a line of stitching which should be positioned at the seam line when applied to the fabric (see image below). The fact the tape is bias allows it to be applied round corners and bends such as armholes and necklines.
Bias tape can also be used to create the break line on a collar in a tailored jacket or coat. This is where the collar rolls back rather than being a sharp pressed edge.
A really handy tip for non conventional use of bias tape can be to use it for dressmaking where you are concerned stay stitching may distort or damage the fabric by positioning the line of stitching at the seam line as detailed above.
Edge Tape
Edge tape is similar to bias tape in that it can be used to stabilise lapel breaks and other areas on very tailored garments, but can only be applied to a straight seam.
Edge Fix Tape
This very lightweight fusible tape is perforated to help you create a sharp, crisp fold at hems, cuffs, plackets, pockets and other areas. Simply iron edge fix tape on positioning the perforations where the fold should be.
Stay Tape
Stay tape is used for the same tasks as bias tape, but is particularly suitable for lightweight and delicate fabrics including knits. Some common uses include stabilising shoulder seams on knit garments, creating roll lines of lapels on lighter weight fabrics, preventing necklines from stretching out of shape.
For knit fabrics you could use stay tape or stretch interfacing or seam tape (stretch interfacing cut into narrow strips on a roll - see below) to stabilise the neckline, armholes and hems. Have a play around and see which you prefer and remember you may well get different results depending on the fabric.
Seam Tape
Seam tape is essentially stretch interfacing in narrow strips on a roll and is usually the ideal width to sit inside the seam allowance (about 1/2" wide). It is usually fusible and can be ironed on around necklines, armholes and hems on knit and stretch fabrics to prevent them from stretching out as you sew or wash and wear them.
You can find our range of seam tapes here.
Kick Tape
Rather than giving structure or stability, kick tape is used to prolong the life of your trousers! It is sewn onto the hem to prevent wear and tear. It is sometimes used for floor length gowns to protect the delicate fabrics used.
Horsehair Braid
Horsehair braid is used to provide structure and create body in garments. Commonly used for hems, hats and sleeves it is a type of netting. The top edge has thread woven through it, which allows you to create a curve when pulled, useful when applying it to circle skirts. It is often used on wedding dresses and formal gowns where a flared hem is required, but looks great on shorter dresses and skirts too - perfect for parties!
The edge without the thread is sewn onto the raw edge of your hemline and the edge with the thread is hand sewn later. A useful tip is to bind the edge of the braid with some scrap fabric or binding for a smooth finish.
Just look at the stunning effects created with Horsehair braid on this designer gown by Hayley Paige.
Waistband Products
Although many sewing patterns simply suggest using interfacing for waistbands, using a product designed specifically for waistbands will give you better results.
Waistband Stiffeners
Our waistband stiffeners are iron on and therefore super easy to apply. They have three lines of perforations - the centre line is to create the fold on your waistband whilst the two outer lines should be positioned at the seam line. This may mean the edge of the waistband stiffener isn't lined up with the raw edge of the fabric, but positioned slightly lower down the waistband. The perforations help to create a crisp, neat fold and give a really professional finish.
You can see more information on how to apply a waistband stiffener and sew a neat waistband with an invisible zip here.
Petersham
Petersham is an alternative stiffener for waistbands and is available curved or straight. The curved petersham is particularly useful for curved waistbands and low waisted garments.
It is much stiffer than the waistband stiffeners mentioned above so you need to consider the look you want to achieve when choosing which product to use. Another consideration is that the petersham we stock is sew in rather than fusible.
There is also a petastretch, suitable for use with stretch fabrics.
Interfacing Products Comparison Table
Interfacings Dressmaking
| | | | | | |
| --- | --- | --- | --- | --- | --- |
| Product | Fusible/Sew In | Woven/Non woven | Colours Available | Fabrics Suitable for | Common Uses |
| Vilene G785 | Fusible | Woven | Light skin, black & white | Lightweight woven fabrics such as silks, cotton lawn, lightweight polyester & viscose. | Cuffs, collars, facings, plackets. Suitable for transparent fabrics. |
| Vilene H180 | Fusible | Non woven | Black & white | Lightweight woven fabrics as above. NB H180 has slightly less drape than G785. | Cuffs, collars, facings, plackets. Can be used as interlining for jackets made from lightweight to medium weight fabrics. |
| Hemline H754 | Sew In | Non woven | White | Lightweight woven fabrics as above. | Cuffs, collars, facings, plackets. Can also be used for pattern drafting & tracing. |
| Hemline H784 | Fusible | Non woven | White | Lightweight woven fabrics as above. | Cuffs, collars, facings, plackets. |
| Vilene Medium Weight Interfacing | Sew In | Non woven | Black & white | Lightweight woven fabrics as above. Also light to medium weight woven fabrics such as heavier weight cottons, linens, wool & crepe. | Cuffs, collars, facings, plackets. |
| Stretch Polyester Iron On Interfacing | Fusible | Non woven | Black & white | Knit & jersey fabrics | Prevents hems, necklines, armholes & other areas from stretching out of shape. |
| Vilene Lightweight Sew In Interfacing | Sew In | Non woven | Black & white | Lightweight woven fabrics as above. | Cuffs, collars, facings, plackets. |
Interfacings Speed Tailoring
| | | | | | |
| --- | --- | --- | --- | --- | --- |
| Product | Fusible/Sew In | Woven/Non woven | Colours Available | Fabrics Suitable for | Common Uses |
| Vilene stitch reinforced interfacing | Fusible | Woven | Black & white | Lightweight to heavy fabrics such as wool & wool blends. | Full fronts, facings, lapels, collars, cuffs & pockets. |
| Vilene medium weight brushed cotton interfacing | Fusible | Woven | Ecru & black | Medium weight to heavy fabrics such as wool & wool blends. | Fusing fabrics eg tweed to prevent snagging. Gives fabric body & is good for natural fibre fabrics. |
| Vilene 12mm wide bias tape | Fusible | NA | Black & white | Any | An alternative to stay stitching for heavier fabrics or where stay stitching may cause the fabric to stretch or distort. Can be used on curved edges. Can be used to create structure such as break lines on a collar. |
| Vilene Edge Tape | Fusible | NA | White | Any | Permanently stabilises lapels, front edges & armholes edges in very tailored garments. |
| Vilene Edge Fix Tape | Fusible | NA | White & black | Most tailoring outerwear fabrics | Very light, has perforations for sharp edges on pockets, plackets, vents, hems & cuffs. |
| Vilene sew in thermolam compressed fleece | Sew In | Non woven | White | Any | Creating shoulder pads & sleeve heads. Also suitable for ironing board covers. |
We hope you've found this article useful and feel equipped to experiment. As always if you need any further help or assistance just drop us an email or give us a call and we will be happy to help.
Have fun sewing!
Lucy
For more tips and tricks on how to make sewing easy you can follow our blog via Bloglovin and receive updates via email each time a new post is added.
Follow us on Facebook Twitter YouTube and Instagram for news, tutorials, special offers, sales and more.