As always there has been a lot happening at Sew Essential the last few weeks and I now have a growing list of sewing patterns that have turned into garments waiting to be blogged about!
First up is the Rae skirt by Sewaholic patterns, which I made in three and a half hours (not including cutting out). I must admit this wasn't one of the patterns that jumped out at me when we first starting stocking the range a few months ago, but when I saw it made up on the Sewaholic website I immediately wanted one! It looked super stylish with a vest top tucked in and a pretty pendant necklace and I could just imagine myself wearing it strolling down the road in a pair of summer sandals to pick Toby up from school. Just imagining the sunshine at the end of a bleak February was enough to get me motivated!
We have been stocking the Tilda range of fabrics, many by the metre, on the website for some time now and I have spent far too much time gazing adoringly at their pretty patterns on the website. I knew straight away one of the nature inspired patterns in the pardon my garden range would be just perfect for the spring summer vibe I had in mind. I picked the wild garden dark blue option, which I thought would look lovely with a denim jacket and metallic sandals. I ordered 2.5m of fabric, but had loads left over for another project, I bet I only used 1.5m.  Of course, I washed it before use and it pressed beautifully. It definitely has a high quality feel thanks to the weight of the fabric.
I had a bit of trouble picking my size because the Sewaholic patterns are designed with a pear shaped figure in mind whereas I am more of a lamppost build (I realise this isn't a term most people will be familiar with because I think I coined it for myself!) In other words I don't really go in or out much in the right places!
The pattern packet suggested you go off your hip measurements because the waist is elastic so it will stretch anyway. However, the size that matched my hip measurement (38") was a size four whereas the size that matched my waist measurement (29") was two sizes up - a size eight and I was concerned the smaller size might not give me enough fullness in the skirt.
I spoke to Angela and she suggested I measure the pattern pieces - great idea! I did this and realised there was tonnes of ease to play with so thought I'd go with the smaller size. It wasn't until I had cut my fabric out I realised I hadn't taken seam allowances into account! Seeing as there were six pattern pieces this made quite a difference, but there was no going back so I decided to press on.
I convinced myself all would not be lost if it didn't fit because I have a super skinny (and very lovely) sister in law who I could give it to. Who am I kidding - I was dying inside because I really, really wanted it for myself! I crossed my fingers and toes and carried on, fighting back the tears as I sewed!
I also made another rather hilarious mistake which was cutting a piece of elastic 12" long for my waist rather than a size 12 i.e. 31 1/2" long, I mean who am I kidding?! I probably wouldn't get that round Toby's leg (my four year old son!) Luckily I had another packet of elastic to hand and cut it to the right size then tried the skirt on and adjusted the length of elastic until I was happy with the fit, which actually meant shortening it by  good few inches. But not down to 12"!
I am happy to say I was really pleased with the finished garment and perhaps it could be a little fuller if I made it again, but I'm more than happy with this one. To be fair it doesn't take much for me to be happy at this stage in my sewing career - if I make it to the end and it fits I'm delighted!
Sewing the skirt and following the instructions was a dream - even I could understand them! As I mentioned earlier it took me a total of three and a half hours from the first stitch, which was an incredibly satisfying sew for a beginner like me. I was beaming from ear to ear when I hung it up in the wardrobe after one evening of sewing and was praying for some sunshine and the chance to wear it every day thereafter whilst trawling the Internet for the perfect accompanying sandals.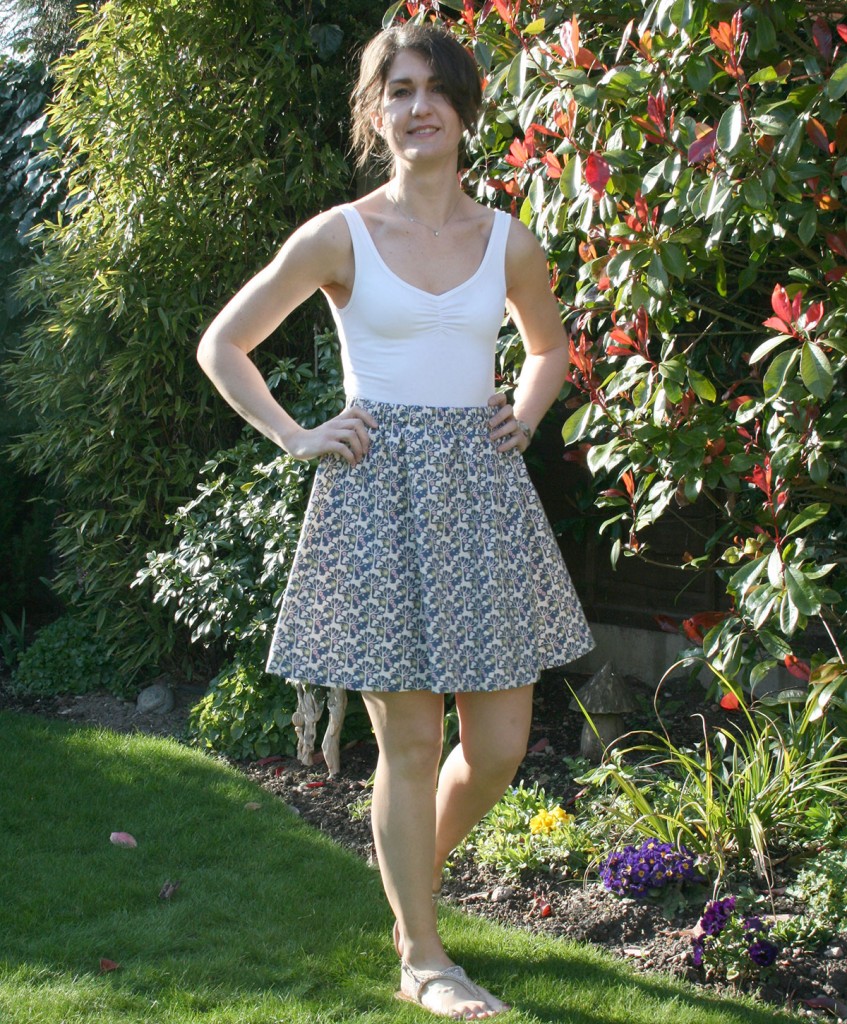 The first opportunity for some garden shots and said sun and sandals finally came at the beginning of April so me, Ed and the kids trundled over to Mom and Dad's garden (which is far nicer and well kempt than ours!) It wasn't the most relaxing photo shoot as Alex destroyed flower pots and Toby tried his hardest to sabotage the photos! Anyway we got through it and hopefully you can see the end result well enough!
Have fun sewing!
Lucy
For more tips and tricks on how to make sewing easy you can follow our blog via Bloglovin and receive updates via email each time a new post is added.
Follow us on Facebook Twitter and Instagram for news, tutorials, special offers, sales and more.