Most modern sewing machines come with the option for sewing a one step buttonhole. This means the machine will create the right sized buttonhole for your button in, you guessed it, one step. In this tutorial we'll show you step by step how to sew it.
For the purposes of this article we are using the Janome 725S sewing machine. Different makes and model of machine will vary slightly, but the overall theory will be the same.
We always recommend testing on a sample piece of fabric before sewing on your actual garment. You can read more top tips for machine sewn buttonholes here.
Sewing a One Step Buttonhole
Insert your chosen button into the back of the buttonhole foot sliding the top of the foot down so the button fits snugly in the gap.
This tells the machine what size the buttonhole needs to be.
Feed the needle thread through the gap in the front of the foot.
Attach the foot to your machine. The button should be towards the back of the machine behind the needle bar.
Gently pull the needle thread and bobbin thread to the left of the machine.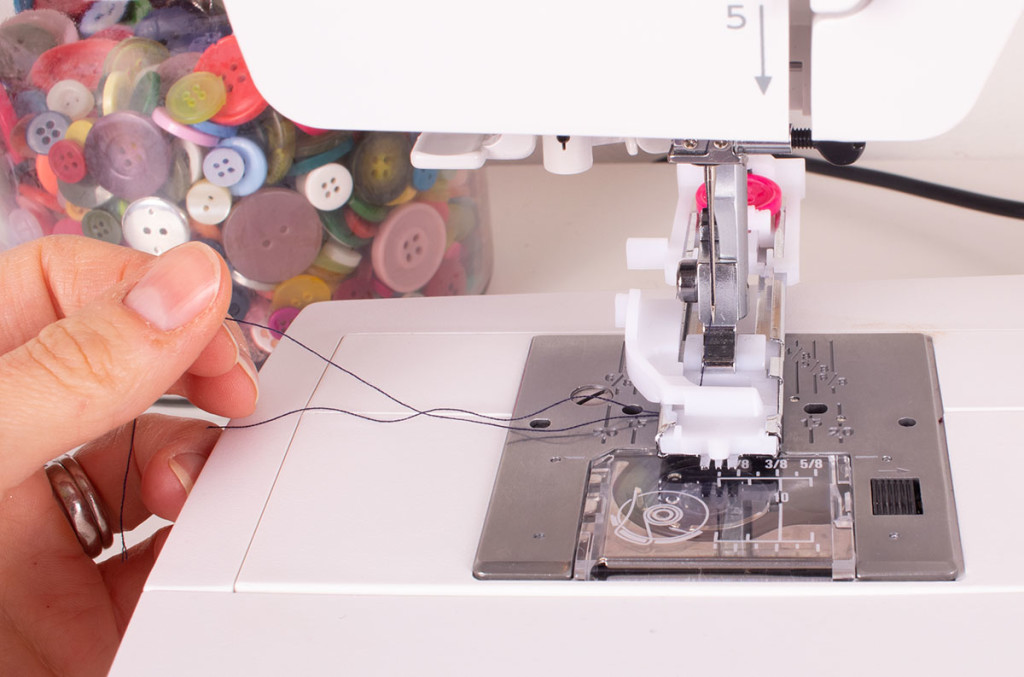 Engage the buttonhole lever by pulling it down as far as it will go.
It should butt up to the left edge of the buttonhole foot.
Select the buttonhole stitch on your machine.
To sew one buttonhole after another you will need to turn the dial to reset then back to the buttonhole stitch on the Janome 725S.
Also choose the relevant stitch width and length on your machine. On the Janome 725S the width can be between 4 and 5 and the length must be between 0.5 and 1. In the image below we are showing the length dial.
Prepare your fabric ready for sewing. We would usually recommend using interfacing or stabiliser with your fabric to give it extra stability where the buttonholes will be sewn.
Start sewing where you want the lower left hand side of the buttonhole to begin.
Keep your foot down and continue sewing until all four sides of the buttonhole have been completed and you reach the end.
You will need to stop once you reach the end of the buttonhole so be careful not to continue sewing beyond this point!
Remove your fabric from under the foot, cut any loose threads and there you have it - a one step buttonhole.
You can see a comprehensive video review of the Janome 725S sewing machine including sewing the one step buttonhole here.
Have fun sewing!
Lucy
For more tips and tricks on how to make sewing easy you can follow our blog via Bloglovin and receive updates via email each time a new post is added.
Follow us on Facebook Twitter YouTube and Instagram for news, tutorials, special offers, sales and more.