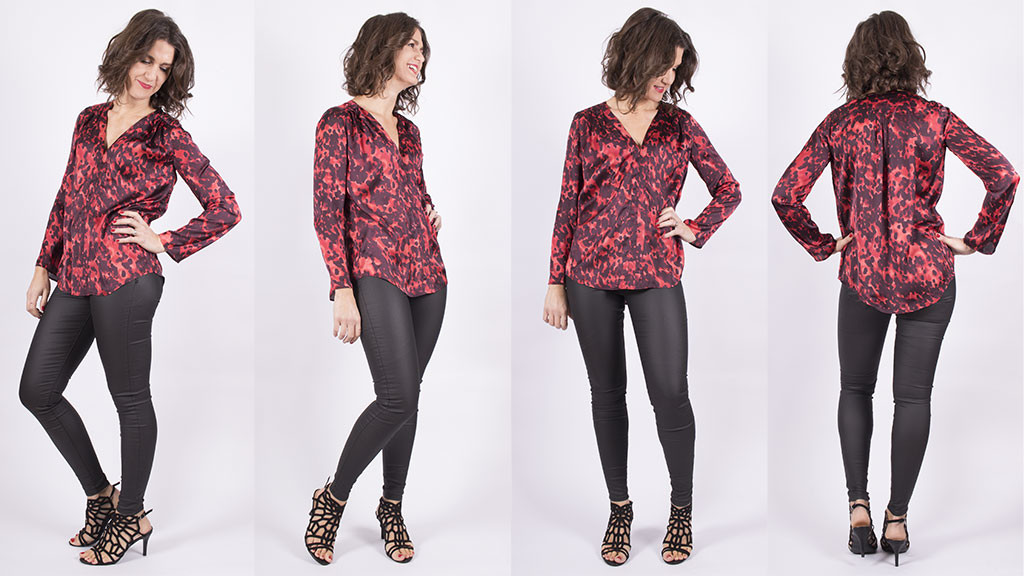 This week I'm pleased to bring you my latest make - a crepe de chine blouse. I thoroughly enjoyed working with the fabric and adapting the pattern to my liking not to mention adding another leopard print garment to my wardrobe. I mean a girl can never have enough leopard print, can she?!
The Pattern & Fabric
I'm always short on dressy evening tops and decided it was time to whip something up in our gorgeous John Kaldor crepe de chine in red leopard print. I mean the leopard print is sooooo this season! We also have it in purple for any purple lovers out there.
Plus there is a distinct feeling of special occasion every time I slip this super silky luxe fabric over my skin. You know, compared to the usual T shirt!
I had a quick look around my favourite ready to wear websites and found plenty of inspiration. I wanted to make a slightly oversized V neck blouse with a dipped hem and simple sleeves.
Finding a V neck blouse pattern can be quite a challenge so I was chuffed when I stumbled across Burda 6632. I knew it was a great match for the fabric plus it had the dipped hem and some cute shoulder pleats. I found the shoulder pleats on this McCalls dress very flattering on my small bust when I made it recently.
Adjustments & Sizing
I made a quick toile in a size 8 having read a review saying the sizing was incredibly generous. I quickly realised I would need to size up to a 10 to fit my shoulders and armholes.
There isn't a shoulder seam for this pattern, instead there is a seam where the yoke meets the bodice, which is supposed to sit below your shoulder at the front.
Great news for someone like me who normally has to do a forward shoulder adjustment. There really wasn't any need. Ok maybe that seam could have been a little further forward, but it looked fine where it sat naturally.
In hindsight I do think I should have done a high round back adjustment. I've made the mistake of not doing this in my last two makes and the conclusion is I always need one. All part of the learning process I guess.
One adjustment I did make was to remove one of the pleats at the back of the blouse. In my opinion there was way too much volume at the back. I felt like the toile was swamping me in that area. By removing a pleat I felt I ended up with the perfect amount.
I also reduced the length of the dipped hem at the back slightly because it felt a bit too long. I simply trimmed the fabric off evenly by marking it with chaco first, then using my scissors.
Construction
The construction of this blouse is sooooo easy. No fastenings and very simple sewing techniques.
Clearly using a slippery fabric like crepe de chine added some level of challenge, but I thoroughly enjoyed the change. I used a number of tips for working with this fabric and wrote an extensive article about them here.
Since the fabric is so luxurious and this was a special occasion top I wanted to really focus on a neat finish.
Instead of top stitching the yoke down as suggested in the pattern instructions I hand stitched it. Angela later told me there's a special trick for machine sewing it and turning it through used for men's shirts. One for me to learn next time.
I also hand stitched the neck band in place on the inside and finished all the seams with French seams.
I decided to omit the cuff and simply sew a narrow hem at the sleeves. The pattern review I read said the cuff didn't seem to fall well with the sleeve and I wanted something simple since it is a bold fabric.
Final Thoughts
I'm really pleased with the finished blouse. In hindsight there are probably some fit adjustments I could have done in the armhole/shoulder area, but this is perhaps being a little pedantic.
I think the fit looks good and that's the main thing, it just feels like I would benefit from slightly more room at the armholes if I made the blouse again.
It was very enjoyable working with a fabric I haven't worked with before. I relished the challenge of learning how to keep the fabric under control to get the results I wanted.
It was worth the extra time spent to get a really neat finish. It makes the blouse feel that little bit more special and I shall thoroughly enjoy wearing this blouse for a Christmas meal with the girls next week.
Shopping List
Have fun sewing!
Lucy
For more tips and tricks on how to make sewing easy you can follow our blog via Bloglovin and receive updates via email each time a new post is added.
Follow us on Facebook Twitter and Instagram for news, tutorials, special offers, sales and more.