I have been chomping at the bit to get started on my Autumn/Winter handmade wardrobe. If you saw my fabric haul vlog last week you will understand why! There are so many gorgeous, cosy fabrics on our website right now. I decided to start with a simple denim skirt and a cosy long sleeved Tshirt. I'm really pleased with how they turned out and know I will wear them all winter long.
The Denim Skirt: Choosing A Pattern
In my humble opinion a denim skirt is a great wardrobe staple. I decided to make one for this very reason last year, but was never 100% happy with it. It was my first time working with denim and I made a lot of mistakes. I learned a lot, but it just didn't cut the mustard.
Due to my inexperience at the time I also didn't really choose the right pattern. The image in my head was of a skirt like this.
Smart, high waisted, very slightly A line, although a little longer in length.
However, I chose the Moss skirt pattern, which is lovely, but was a totally different style. It sits on the hips, is quite short and is more casual looking thanks to the back yoke and centre front seams and pockets.
Now when I choose a pattern I try to think much more carefully about the look I want to achieve. The shape, the fit, the feel. This might sound very simple to some, but it took me a while to understand the importance of this so I thought I would share the wisdom.
This time I knew exactly what I was looking for and when my lovely friend Jen (of the blog gingerella) made Simplicity 1370 I knew this was it. It was quite a bit shorter than I would like and the packet styling was decidedly summery, but I knew it could work with a few tweaks.
Making A Toile
Although this was a super simple pattern I decided to make a quick toile. I wanted to get a really good fit and whipping up a quick toile was definitely worth it. I used curtain lining fabric, which was a similar weight and drape to the gorgeous denim I had chosen.
A lot of people hate the thought of making toiles because of the extra time it takes, however, mine never take very long. I don't make the full garment up, but just make enough to get an idea of fit. For example rather than sew a zip in I baste or pin instead. I don't make the full waistband with lining, but just make the side that will be attached to the skirt.
Based on my waist measurements I was sitting between a size 14 and 16 so I cut a 16. The 16 was way too big so I ended up sewing a 14 on the side seams and leaving the back seam as a 16. It was important to remember to make the same adjustments to the waistband.
I also lengthened the front and back pattern pieces two inches and was relatively happy with the fit. I knew I would need to mess around with the side seams a little, but was happy to do this on the real mccoy.
Further Fitting Adjustments
As expected I had to alter the side seams. In fitted and semi fitted skirts and dresses I often experience tightness across my thighs. It is not a good look and is also uncomfortable because the skirt is constantly riding up.
Fixing this problem is really very simple. I try on the skirt/dress and mark the points where the tightness begins and ends. I take the garment off and work from the wrong side. Next I use a chaco pen to mark the pin points and the centre point between them.
At the centre point I mark 1/8" beyond the seamline in the seam allowance then gently taper back to the pin points. Finally I stitch along the new seamline (the chaco line) and unpick the original one between the pin points fastening securely with knots.
In simple terms all I do is increase the amount of fabric available across my thighs by taking a small amount out of the seam allowance. I can tell you this is an absolute revelation. For years I have experienced the tight thighs problem and didn't even realise clothes shouldn't fit that way. Oh how I love sewing!
Sewing With Denim
I used a jeans needle and a slightly longer than usual stitch length. This time around I was more concious that denim has a tendency to stretch. I was careful not to let the fabric hang off my table/machine whilst sewing to avoid the weight of the fabric pulling down and stretching it. I also used interfacing on the waistband to prevent stretching.
The corners of the waistband were where I had the most problems last time. I fiddled and fiddled and ended up with the most horrible pointy corners and uneven waistband as a result.
This time when turning the corners through didn't work and the same thing started happening I decided to abandon ship. Instead I pinned the waistband lining in place and hand sewed it down the sides.
I overlocked the length of the waistband lining then stitched in the ditch from the right side to secure it. This is usually my preferred method for sewing a waistband and is definitely a good option when working with bulky fabrics like denim.
Adding An Exposed Zip
I had deliberately chosen a very plain, simple pattern to achieve the smart look I was going for. However, I did want to give it a little twist to make it more interesting. I decided to add an exposed zip.
Although it could seem intimidating it is actually a very simple technique. I wrote a tutorial on how to sew an exposed zip here. In that tutorial the top doesn't have a centre back seam whereas the skirt did. The principle is still the same, but instead of working with a 5/8" seam allowance for the zip you work with a 7/8" seam allowance, which reduces to 5/8" after the zip finishes. I will aim to share another tutorial for sewing an exposed zip with a centre back seam in the coming weeks.
It looks nice and neat from the inside too, although I didn't notice the right seam allowance is slightly folded under in this photo. It must have happened whilst I was wearing it, but I can assure you it matches the other side!
I used an 8" brass jeans zip because I love the shiny brass against the deep blue denim.
Sewing The Cosy Top
The top is the Tilly and the Buttons pattern, which I blogged about last year here. It really is a fantastic pattern and I'm sure I'll be making more versions this winter. It has just four pattern pieces, the fit is good and construction is super simple. If you are a beginner Tilly patterns are excellent thanks to the detailed instructions complete with colour photos of each step.
I made it up in this gorgeous knit fabric (sorry - now sold out!), which is so super soft and cosy. If you look at the wrong side of the fabric you can get a feel for the super soft texture.
It was fantastic to work with too. When laying the fabric out for cutting there was no curling up at the ends and it sewed up beautifully.
I referred to my video tutorial on sewing neckbands for knit fabrics to refresh my memory because I haven't used this technique for a while. Every time I use the tips in this video I'm really happy with the end result.
Honestly I cannot recommend this fabric highly enough, it is gorgeous! I know this top will get a huge amount of wear over the coming months.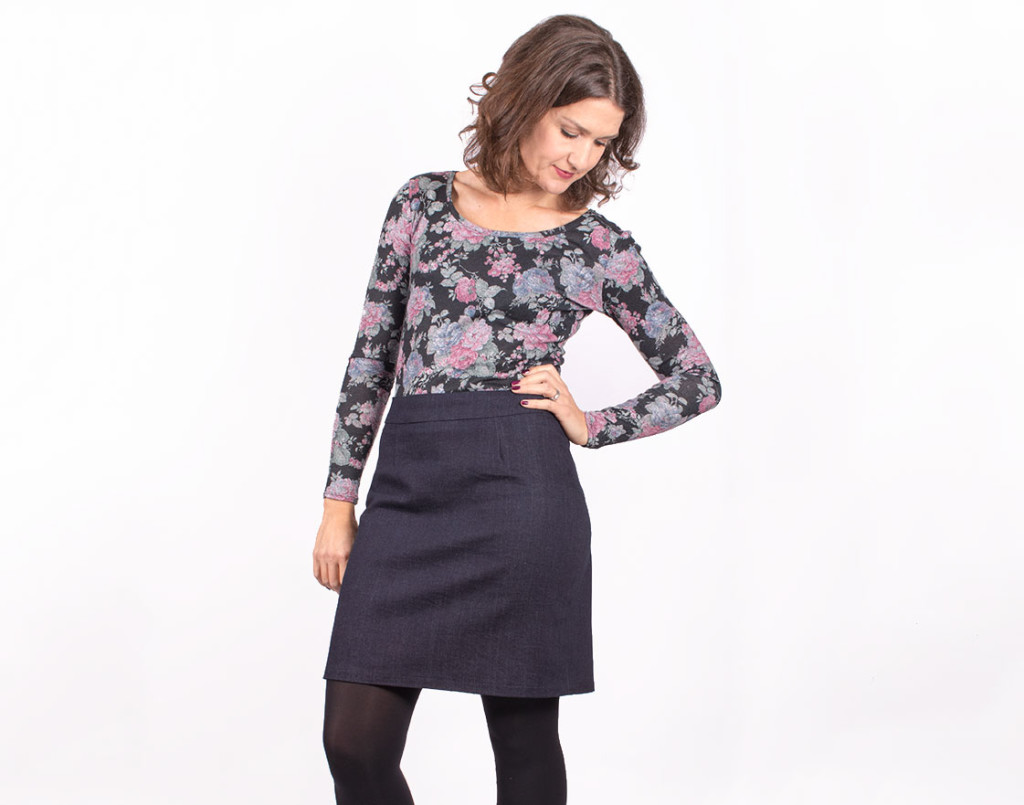 It feels great to be off the starting blocks with the Autumn Winter sewing and I'll be bringing you more comfy, cosy makes in the coming weeks.
Have fun sewing!
Lucy
For more tips and tricks on how to make sewing easy you can follow our blog via Bloglovin and receive updates via email each time a new post is added.
Follow us on Facebook Twitter YouTube and Instagram for news, tutorials, special offers, sales and more.