Although some sewers find them a daunting prospect, knit and jersey fabrics are great to sew with, even if you don't have an overlocker. They are comfortable to wear, more forgiving on fit and they don't fray plus there are so many knit and jersey fabrics and sewing patterns to choose from these days too. Here are our top tips for getting professional results every time.
Choosing a Stretch Fabric
There are so many different types of stretch fabric to choose from - ponte roma, scuba, cotton jersey, viscose jersey, polyester jersey and wool jersey to name but a few. You can find all of our lovely stretch fabrics here and here plus some delicious stretch velvets here.
This is all well and good, but if you're just getting started sewing with knit and jersey fabrics the amount of choice could actually feel a little overwhelming.
Fear not! In very simple terms the most important thing to get right is whether the fabric you choose has enough stretch and here's how to do it.
The commercial sewing patterns (McCalls, Simplicity, Vogue New Look etc) will usually have a pick a knit test on the back of the packet to help with this.
You take a set amount of fabric (across the width) and line it up with a marker on the back of the pattern packet indicated with arrows or a bar. You then stretch the fabric to the next arrow indicated on the packet and if it can stretch that far it is stretchy enough. Simple.
Independent (indie) sewing patterns will often give a percentage rather than a pick a knit test. For example 'requires fabric with 50% stretch'. If this is the case you would need to be able to stretch a 10cm section of fabric stretch to 15cm since 5cm represents 50% of the original 10cm (see images below).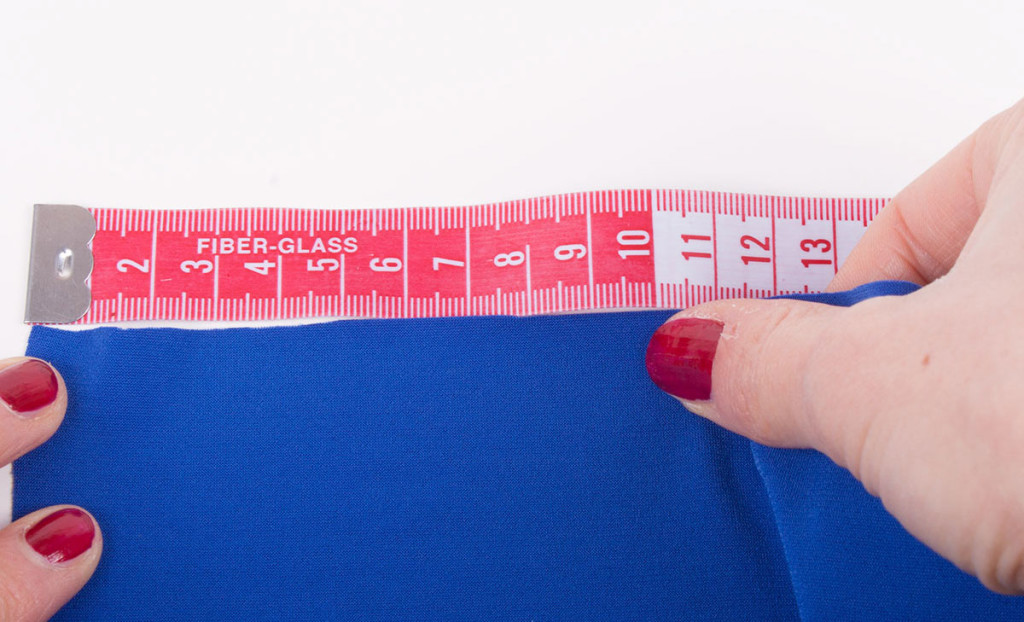 As with all fabrics we always recommend pre-washing your fabric. You can find washing instructions for all of our fabrics on our website.
Sewing Knit & Jersey Fabrics on a Sewing Machine
Although it is much quicker and easier to sew stretch fabrics on an overlocker, it is not necessary. Providing you use the right tools you can achieve excellent results on a normal sewing machine.
Sewing Machine Needles
As with all fabrics the first step is to select the right needle type. There is an excellent article on our blog to help you to choose the right needle for any project here.
For the purposes of this article there are three types of needle to consider:
Stretch Needles
Stretch needles are usually best for fabrics made from man-made fibres such as lycra and polyester jerseys. They work to prevent skipped stitches and are used with polyester or cotton wrapped polyester threads.
Ball Point Needles
As the name suggests a ball point needle has a rounded tip which pushes the fabric fibres apart rather than cutting into them. Ball point needles are generally used with stretch fabrics made from natural fibres such as cotton jersey. Polyester or poly/cotton threads are best for use with ball point needles.
Twin Needles
Using a twin needle is a great way to finish the hems on your knit garment.
You do need a second spool on your sewing machine, but most modern machines come with one.
As the name suggests this needle allows you to sew two parallel lines of stitching simultaneously and they are available as stretch or ball point and in a variety of widths. The width indicates the gap between the two needles.
You can read our top tips for sewing with a twin needle here.
It is always worth testing out the results you get with different needles on some scraps of fabric first. Sometimes I have been surprised to get better results with the needle type I wasn't expecting.
Sewing Machine Tips
The main risk you run when sewing with stretch fabrics on a sewing machine is stretching them out of shape whilst you sew.
To avoid this make sure the fabric doesn't hang off your machine as you sew. Try to support the weight with your hand or on your work surface. Another option for some machines is to use an extension table.
Extension Tables
Extension tables are also useful for supporting the weight of any larger projects such as quilts, curtains, coats etc.
Sewing machines vary hugely in terms of shape and size therefore it is crucial to choose an extension table that is compatible with your sewing machine.
We have an extensive range for the most popular brands of machine here and if you are struggling to find one to fit your machine we can even organise a custom made one for you. Just drop us an email or give us a call.
A Walking Foot or Dual Feed Foot
Another great tip for sewing knit and jersey fabrics on a sewing machine is to use a walking foot or dual feed or even feed foot (see images below).
These feet are designed to feed the top and bottom layers of fabric through the feed dogs at an even rate and are also brilliant for working with slippery fabrics, multiple layers of fabric or any project where the layers of fabric might want to run away from each other and put all your stitches in the wrong place!
Although it is not essential, it does make life a lot easier. If you use a standard foot with stretch fabrics it is much easier for one of the layers of fabric to feed through the machine more quickly than the other causing it to stretch out of shape.
You can find our full range of walking feet here - always check the compatibility charts on our website to make sure the foot you have chosen is suitable for your machine.
A Zig Zag Stitch
These fabrics are designed to stretch and move with our bodies - hello comfort and great fit!
However, your stitches will need to do that too otherwise you could experience annoying popped seams and possible wardrobe malfunctions, oh dear!
To avoid any embarrassment try sewing with a slight zig zag stitch about 0.5mm wide. This should be enough to create the movement you need whilst being hardly noticeable.
Sewing Knit & Jersey Fabrics on an Overlocker
If you are lucky enough to have an overlocker we wrote an article full of tips on sewing garments on an overlocker here.
There are a number of advantages to using an overlocker and/or coverstitch machine for sewing knit and jersey fabrics.
Firstly they are super speedy. You can sew seams in half the time it takes to sew one on a sewing machine.
Secondly they control the fabric better. You simply adjust the differential feed and you don't need to worry about the fabric stretching out of shape as you sew.
Finally they give a super professional finish. The insides of your garments will look as good as top end ready to wear garments. All of the above advantages are also the case for woven fabrics too.
If you want to learn more about overlockers you can read our 'Beginner's Guide to Overlockers' We are always happy to discuss our overlocker and coverstitch range, view the range here and do give us a call if you need any help!
Top Tips & Products
Whether sewing stretch fabrics on a sewing machine or an overlocker here are some great tips and products. These little beauties will help you to take your knit and jersey garments to the next level. As always our mantra is to test on scraps of fabric before applying to your garment.
Stabilise Shoulder Seams with Stay Tape or Narrow Ribbon
It is vital to stabilise the shoulder seams in a knit/jersey garment to prevent them stretching out of shape. Simply sew some stay tape in at the seam and you shoulders will never be saggy! The tape is sheer, can be cut to your chosen width and won't add any bulk - happy days!
Another alternative I like to use for this same purpose is a piece of narrow 6mm ribbon.
If using an overlocker you may even be able to insert the ribbon or tape through the foot to sew it into place. If not place it under the foot instead and make sure to keep it lined up correctly as you sew.
Stabilise the Neckline and/or Armholes with Stretch Interfacing
The next crucial step with any knit or jersey garment is to stabilise the neckline and possibly armholes.
There are a number of products you can use to do this.
Stretch Interfacing
Stretch interfacing is truly wonderful stuff and I use it in every stretch fabric project. It can be hard to come by, but we stock it in black and white.
It allows the fabric to stretch as needed, but won't allow it to stretch out of shape. Simply iron on and it will give your knit and jersey fabrics extra stability where you need it.
For necklines, armholes, hems and cuffs cut a strip just wider than your seam allowance, iron on then stitch as normal.
Seam Tape
Seam tape or stay tape is an alternative product to use on armholes and necklines and is available in black and white and by different brands, see our range here.
A line of stitches sewn into the tape prevents fabrics from stretching so it can be used as an alternative to stay stitching.
Position the tape so the line of stitches is along your seamline and the wider side of the tape sits inside the seam allowance then iron on before sewing.
Clear Stretch Elastic
Have you ever had a wrap top or dress that gapes annoyingly at the neckline? Avoid this problem in your handmade wrap dresses and tops by sewing a strip of clear elastic along the raw edge of the neckline fabric.
Again, if using an overlocker you may be able to feed the elastic through the foot to sew it into place. If using a sewing machine use a zig zag stitch. In both cases stretch the elastic slightly as you sew it.
Woolly Nylon Thread
Woolly nylon thread is a great product to try if you have an overlocker. Use it in the upper loopers and it will give a fuller appearance to your stitches. It is also very soft and has more stretch than a normal overlocking thread. It can also be used in the lower loopers in a coverstitch machine for a great effect.
We hope you've enjoyed our tips and tricks for sewing with knit and jersey fabrics.
Have fun sewing!
Lucy
For more tips and tricks on how to make sewing easy you can follow our blog via Bloglovin and receive updates via email each time a new post is added.
Follow us on Facebook Twitter YouTube and Instagram for news, tutorials, special offers, sales and more.