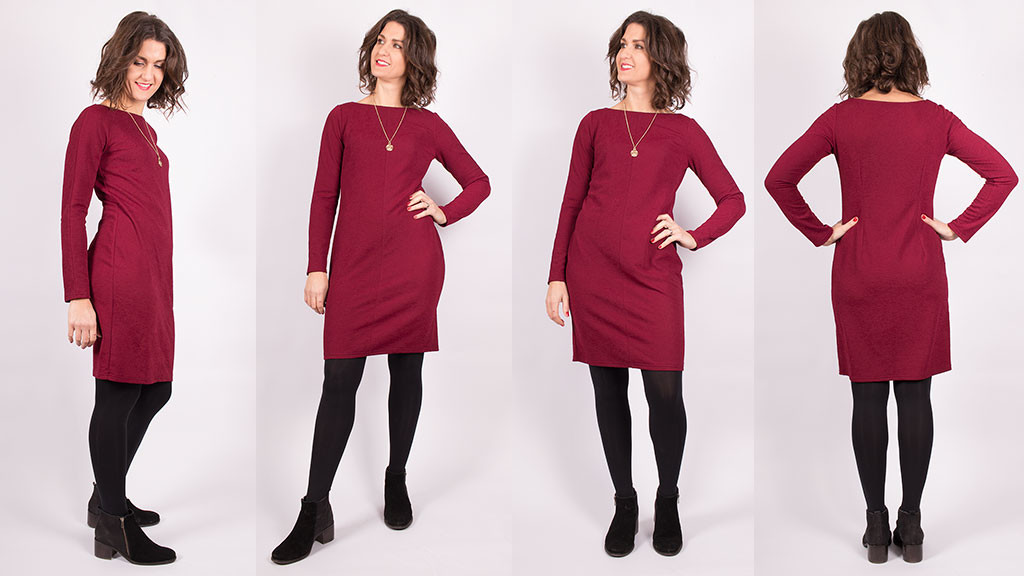 I have a stack of sewing makes piling up waiting to be blogged including my new favourite knit dress. This Burda 6609 sewing pattern and our textured wine coloured jersey are a match made in heaven (IMHO). An incredibly easy, fast and satisfying sew and something I want to wear again and again it's a total wardrobe winner.
The Pattern and Fabric
The pattern is a simple shift dress design with a centre front seam and options for sleeveless, short or long sleeved versions.
There are also two pocket styles to choose from and it can be made in a versatile range of fabrics thanks to the simple clean lines.
Opt for stretch or woven fabrics, although something medium weight such as wool or ponte to hold the shape.
I chose to make view C in our gorgeous wine coloured textured ponte fabric. I knew the fabric would work well, but be comfortable and warm and be easy to sew.
I absolutely love the colour too. Add a splash of red lippy and you have a smart casual look that is so easy to wear.
I should also mention the fabric is a dream to cut out. It lies nice and flat the selvages line up perfectly and there is none of that ends rolling up malarkey going on.
It is a total bargain at just £4p/m too.
Adjustments and Sizing
I cut a size 10 at the top grading to a 12 at the waist and hips.
Due to the fact I was making it in ponte I omitted the zip at the back. I knew it wouldn't be necessary and just folded the back pattern piece over 5/8" to remove the seam allowance and cut it on the fold to create one piece.
I moved the shoulder seams forward, but didn't do a high round back adjustment and am kicking myself for this!
As a result the shoulder seams are in the right place at the shoulder end, but are too far back at the neck end. Lesson learned I will not make this mistake again - silly me.
I also raised the bust darts. I thought I was being super clever and based how much I moved them on a toile I made in a similar fabric.
Unfortunately I didn't unpick the darts on the toile before marking my bust point. When I transferred the bust point onto the pattern piece it was too high as a result.
So the bust darts are now too high instead of too low. I can live with that for now, but at least I know for next time.
Every cloud has a silver lining - I did learn how to raise bust darts and it was very easy indeed. I am hoping to share a tutorial with you very soon on this adjustment making sure I stress about getting the bust point right!
Construction
Sewing the dress was lovely and easy, especially seeing as I omitted the zip. I made it on my Babylock Desire 3 coverlock machine using the overlocker to sew the seams and the coverstitch to sew the hems.
My oh my what a joy it is to sew knit hems on a coverstitch machine.
I cannot tell you how easy it is to get the most professional looking results in a matter of minutes.
I cut the pockets out, but when I held them against the dress I preferred it pocket-less.
Final Thoughts
A brilliant pattern and fabric and a dress I love wearing despite the silly fitting mistakes. I hope I get around to whipping another one up minus the mistakes next time.
Shopping List
Have fun sewing!
Lucy
For more tips and tricks on how to make sewing easy you can follow our blog via Bloglovin and receive updates via email each time a new post is added.
Follow us on Facebook Twitter and Instagram for news, tutorials, special offers, sales and more.