Spring is always so full of hope and promise - sunny days, daffodils and snowdrops and sewing the Spring trends - yippee!!!! New trends are popping up everywhere and so are the sewing patterns and fabrics you can use to get those looks. My excitement levels could not be higher as I share them with you right here.
The Denim Ruffle Blouse
Ruffles are a go go - on skirts, blouses and dresses. Think feminine, pretty details mixed with cropped straight leg jeans or culottes.
To bring this look bang up to date go for a ruffle blouse in denim or chambray - the new season twist on this popular style. Go double denim and wear with jeans or opt for black or charcoal jeans if you can't quite handle the cowboy vibes!
To recreate the look I would go for McCalls 7900 in our super soft shirting fabric in mid blue or one of our chambray fabrics. There are so many more ruffle blouse sewing patterns to choose from too, get on and have a look here.
The Midi Length Dress
Hurrah - midi length dresses and skirts are here to stay paired with ankle boots or bright white pumps on chillier days and then whip out those sandals if the heat is rising.
I spotted beautiful emerald greens, cornflower blues, ditsy prints, polka dots and large floral prints too.
Easy to wear key looks such as loose flowing shirt dresses and wrap dresses dominated all my favourite High Street stores.
To nail this look I would go for one of the new McCalls patterns 8031 in our navy and white popcorn crepe fabric. I think the relaxed, drapey approach to the shirt dress pattern gives the classic polka dots a fresh new look.
The Balloon Sleeve Top
Long sleeved Tshirts are a real go to for me in Spring, super useful, but boy do they get boring quick.
This season you can spice things up a bit on this all important wardrobe staple by adding a balloon sleeve.
I spotted them on blouses, shirts and Tshirts alike.
The Adrienne blouse by the Friday Pattern Company looks like a super easy whip it up in an afternoon kind of sew and is the perfect way to get those balloon sleeves in your handmade wardrobe.
Go plain and simple with our delightful John Kaldor ritual jersey fabric available in a huge range of colours or jump on the ditsy trend with this gorgeously pretty floral jersey.
This has officially jumped to the top of my to sew list.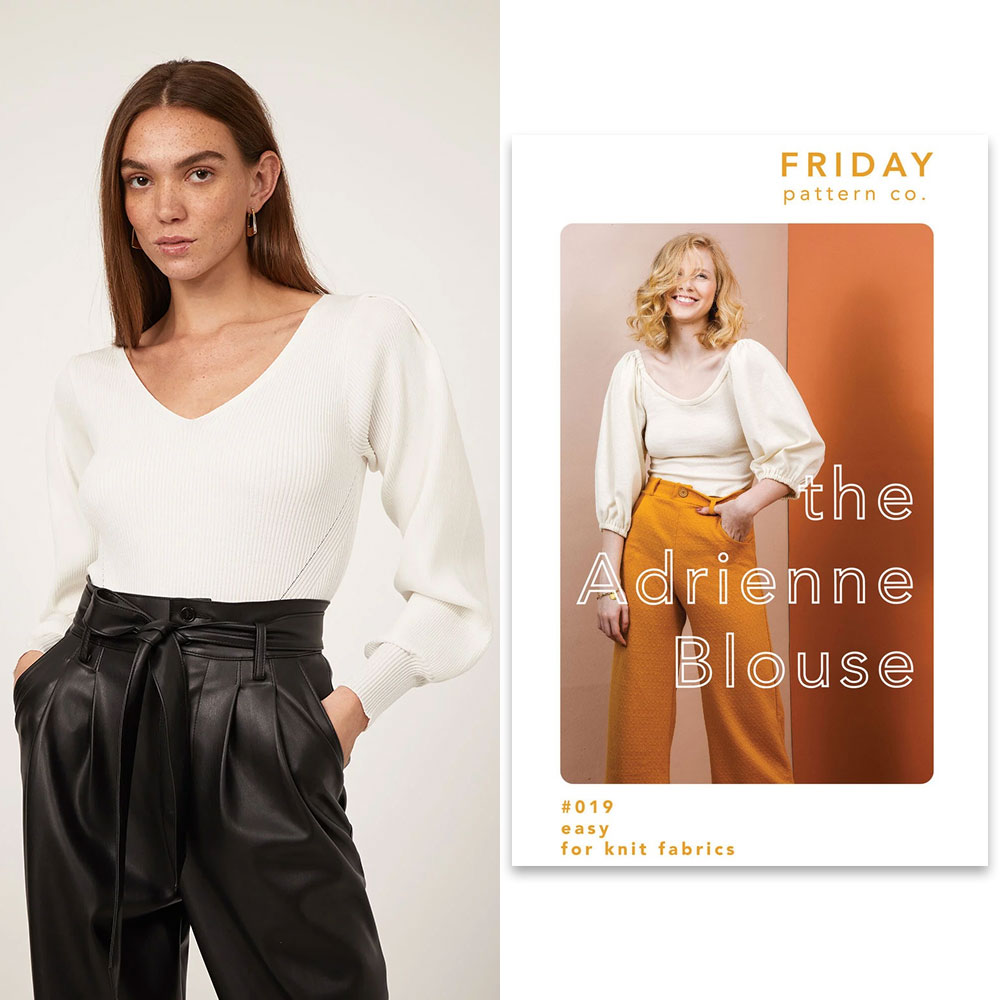 Peasant Dresses
A trend that just seems to keep on gaining momentum the peasant dress is here to stay. Go for knee length or maxi in ditsy prints, polka dots or denims.
We've talked a lot about the Wilder Gown when it comes to injecting some Little House on the Prairie into your handmade wardrobe, but if you fancy a shorter knee length alternative I thought this new McCalls pattern was a real winner.
McCalls 8032 with it's frilly sleeve details and ruffled hem would be fandabidosey made up in our pink and black John Kaldor Hermione fabric. Twit twoo!
Trousers and Jeans
Mom jeans, culottes and cropped trousers are the key trouser looks for Spring.
High waisted with wide or tapered and often cropped legs is the way to go.
I'm just about to finish my first pair of Ginger jeans and it has been such a joyful process I'm already eyeing up the Dawn jeans pattern by Megan Nielsen to fulfil my Mom jean fantasies.
I would make them up in this lovely dark blue denim and pair with my favourite tops and blouses. I am, in fact, a Mom after all!
Button Down Blouses and Camis
You just can't beat a good old button down blouse or cami. Perfect for layering, fun to sew, simple yet effective.
There are sooooo many patterns to choose from on our site to tick this trend box, but I had to go for one of my all time favourites the Ogden cami by True Bias. You can see the version I made and fell in love with last summer here.
I think it would look great made up in this super pretty, floaty, spotty viscose fabric in this season's must have pale blue.
Go for the straightforward cami or add a simple, false button band to get the button down look.
I am so excited to get started on these new season styles, I hope you are too. Let's kiss goodbye to Winter and revel in these fresh new styles.
Lucy
For more tips and tricks on how to make sewing easy you can follow our blog via Bloglovin and receive updates via email each time a new post is added.
Follow us on Facebook Twitter YouTube and Instagram for news, tutorials, special offers, sales and more.