If you're new to sewing your own clothes a list of tried and tested beginner sewing patterns is a great place to start. Simple, easy to make, easy to fit dressmaking projects that will allow you to build your confidence with some of the most common sewing techniques on easy to sew fabrics. Here's my list of the top five beginner sewing patterns tried and tested by yours truly with one important piece of advice - don't be scared just have a go.
One of the easiest things you can make as a sewing beginner is a simple skirt and McCalls 8051 ticks the box beautifully.
A straight skirt with no waistband, darts and a zip it gives you chance to learn the basics without being overly complicated.
The waistline is finished with a facing (a little strip of fabric a couple of inches deep that you sew along the waistline then tuck inside the skirt where it sits neatly and finishes the raw edge of the skirt fabric at the waist).
Not only is it easy to sew, it comes in five lengths and also has options for sewing a vent (a little slit to enable easier movement and walking!) at the back of the longer skirts and belt carriers or loops too.
The image is a version I made in a leather look fabric, which isn't very beginner friendly. Instead I would recommend a nice medium weight crepe or even a cotton twill or cotton sateen for a beginner sewing this pattern. All of these fabrics are nice and easy to sew.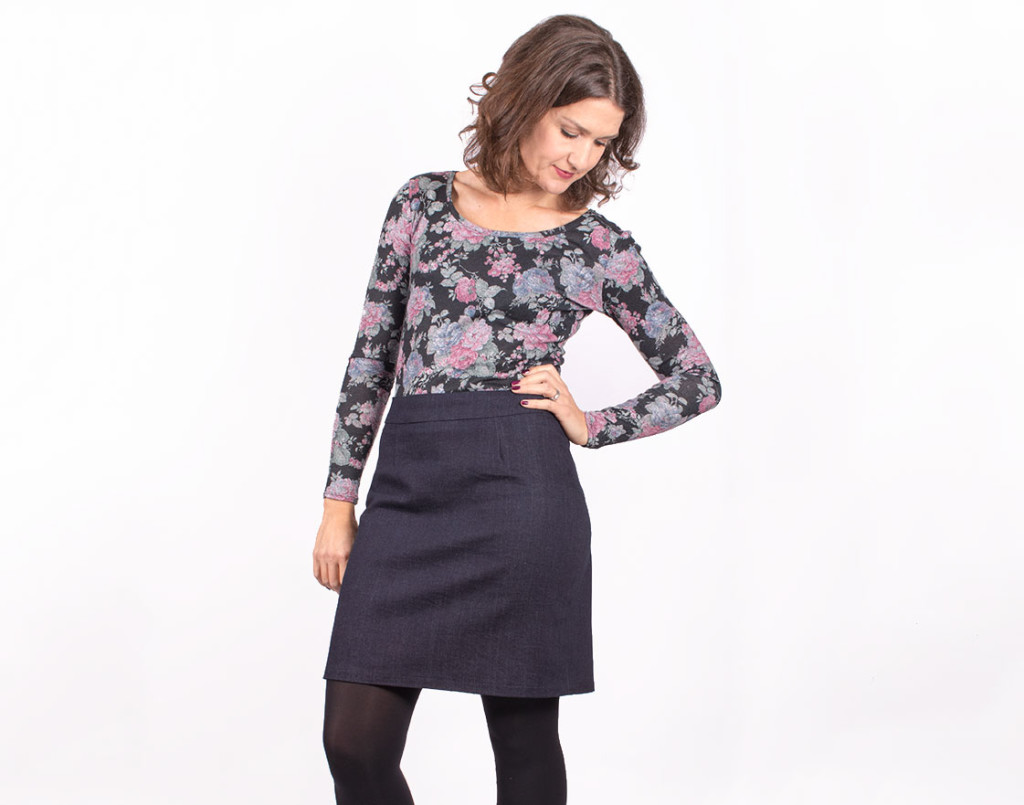 The Tilly and the Buttons Agnes top is a simple Tshirt pattern. It is for knit or jersey fabrics and whilst a lot of people avoid these at the start of their sewing journey I'm a firm believer it is worth giving them a try early on.
Knit and jersey fabrics are so easy to wear and are so comfortable they fit into most people's wardrobes very, very easily.
They are also not as difficult to sew as you might think, especially thanks to the excellent instructions provided in the Tilly and the Buttons patterns.
The Agnes top has short or long sleeves plus optional ruching at the neckline and on the sleeves. I've also seen people hack the pattern into a dress giving you more options once you've developed your sewing skills further.
Simplicity 1200 is a classic circle skirt with a waistband and a zip.
There are options for different lengths, an overskirt, a panel at the hem and a waistband or no waistband so you can have a lot of fun with this pattern.
If you make a straight forward 3/4 circle skirt you only need two pattern pieces - easy peasy!
I made it in a medium weight crepe, but you could also make it in a cotton sateen for beginner sewing friendly options.
The Cielo top is a simple dress and Tshirt pattern for woven fabrics with no fastenings - it just pops on over your head.
The Tshirt sihouette is a lovely boxy, modern shape.
There is a yoke detail on the back (a little panel for a bit of interesting design detail) which is easy to sew.
You will also learn to sew bust darts, an important sewing technique to master as a beginner.
There are also lots of options for finishing the neckline and sleeves. Finish the neckline with a facing or a binding and choose from simple, short sleeves finished with a cuff or voluminous, gathered sleeves to create some wow factor.
You can sew the Cielo top and dress up in a range of fabrics from beginner friendly cottons to more advanced fabrics such as viscose and crepe de chine once you're feeling confident.
If you're anything like me a simple cami top is a wardrobe workhorse. Perfect for flinging on with jeans, shirts or skirts in the summer months then layered with cardigans in spring and autumn.
With just three pattern pieces the Ogden cami is not only incredibly easy to sew, but is also beautifully cut IMHO. In other words the way it drapes and hangs on the body seems spot on.
I especially like the way the front neckline isn't so low it gapes every time you lean forward - genius!
Having said that, the back is cut sexily low without exposing any bra straps.
In terms of sewing techniques you'll learn how to turn through straps, attach a half lining, hemming and stay stitching.
The Ogden cami is designed for woven fabrics and works better with nice fluid fabrics so it's a good chance to try one of these out.
I would recommend trying a cotton lawn if you're a complete beginner then trying some more fluid fabrics like viscose, silk, crepe de chine once your confidence levels have grown.
Have fun sewing!
Lucy
For more tips and tricks on how to make sewing easy you can follow our blog via Bloglovin and receive updates via email each time a new post is added.
Follow us on Facebook Twitter and Instagram for news, tutorials, special offers, sales and more.