Let's cut straight to the chase - my biggest tip for sewing with sequins is to just go for it! Every girl needs a little sparkle in her wardrobe and it isn't anywhere near as difficult as you might imagine. Follow our top tips and you will be taking the world by storm in your dazzling handmade outfit in no time.
Choosing a Sewing Pattern
The first thing to get right is to choose a suitable sewing pattern. Try to choose something with simple lines and minimal seams and fuss. A simple shift dress or T-shirt or blouse pattern is a great place to start.
Bear in mind you will probably want to line your sequin garment and possibly bind some of the seams to prevent unwanted ex-foliation of your body. Another reason why it is a good idea to keep things simple.
I chose New Look 6543 since there were no fastenings required and minimal seams to sew. It does have bust darts, which I felt necessary for my small busted frame, but these were easy enough to sew.
Cutting Sequin Fabric
First things first it is best to cut sequin fabric on a single layer with the nap (if there is one) in the same direction on all pieces.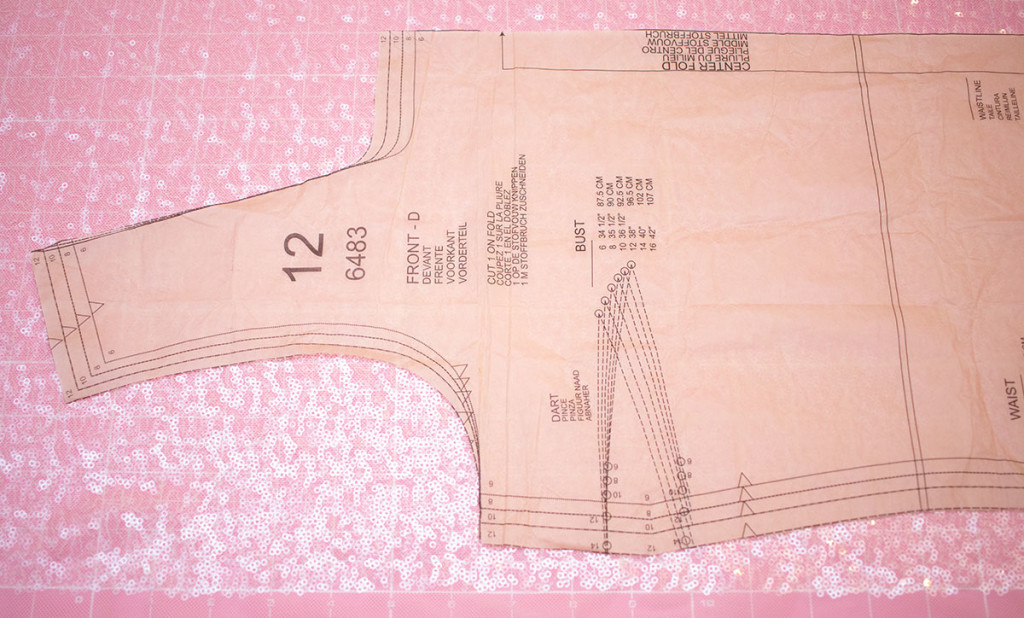 For pieces normally cut on the fold, pin the pattern piece to a single layer of fabric, cut around all the edges except the one that would normally be on the fold.
Mark the fabric along the edge that would normally be placed on the fold (I used pins to do this) then flip the pattern piece over lining the same edge up with your markings and pin in place. Cut out the other side.
For pieces that need to be cut out twice simply cut each one out separately. If the pattern piece isn't symmetrical remember to flip the pattern piece to the wrong side for one of the fabric pieces otherwise you will end up with two fabric pieces the same.
Secondly don't use your precious dressmaking scissors for this task. The sequins can blunt the blades. I used my kitchen scissors or a decent pair of paper scissors should suffice.
You will probably find there are sequins flying everywhere so you may want to protect your eyes.
Marking Sequin Fabric
If you've chosen a pattern with simple lines there won't be many marks to make, but I would recommend using an air erasable or water erasable pen like this one if using a lightly coloured sequin fabric.
Alternatively you could use a tailors tack. You can see how to do this in this article.
Sewing Sequin Fabric
One of the issues with sewing sequin fabric is that you may experience broken needles, although this depends on the type and size of sequins.
I sewed a top in our John Kaldor Luxor sequin fabric without trimming any sequins off and didn't break a single needle. The sequins are relatively small and more sparsely scattered than in some types of sequin fabric.
However, if you are working with larger or more densely applied sequins you may want to trim the sequins off the seam allowances before sewing them to prevent broken needles. This might seem time consuming, but it will save you a lot of heartache in the long run. If trimming you could sew a basting stitch in a contrasting thread to mark the seamline as a guide. If the sequins are sewn in strings simply tie the loose threads to secure them after trimming.
I would recommend testing on a scrap of fabric first to see if this is necessary and to make sure you are happy with the outcome. It is also worth keeping a scrap of the fabric spare in case you need to hand sew a few sequins onto the garment to cover any bald spots at the end.
Choose your needle to suit the base fabric as long as you plan to trim off the sequins or they are sparsely scattered. I used a universal needle and set my machine for fine fabrics such as chiffon or organza since the mesh the sequins are sewn onto was very fine.
If sewing with a stretch sequin fabric don't use your overlocker, rather use a ballpoint or stretch needle and a slight zig zag stitch on your sewing machine.
Remember to line your sequin garment to prevent any nasty scratchiness. I used our John Kaldor cotton jersey Cadiz fabric for my top then finished the neckline, armholes and hem with satin bias. Alternatively you could hand sew or machine sew your hem depending on the look you want to create.
I used pins to mark the seamline for the satin bias then used those same pins to attach the bias in the right position before sewing.
Pressing Sequin Fabric
Sequins are plastic and will melt under the iron so it is best to finger press the fabric instead. I did, albeit very cautiously, use my iron on the darts and side seams, but used a pressing cloth folded to create several layers and a dry iron with no steam. As always test on a scrap of fabric first.
Caring for Sequin Fabric
Dry cleaning or hand washing with a mild detergent is the only option for sequin fabrics.